Miracle-Gro® Sphagnum Peat Moss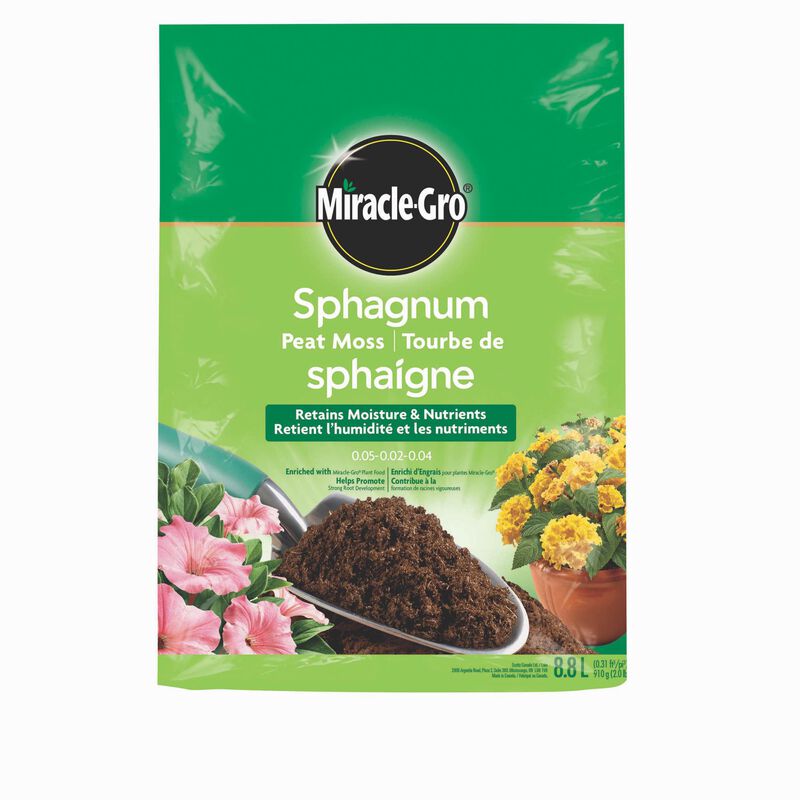 Miracle-Gro® Sphagnum Peat Moss
Overview
• Retains moisture content and crucial active nutrients that aid plant growth and preserve plant health.

• Lightens heavy potting and seeding mixes.

• Acts as a soil conditioner that aerates soil to promote strong root development

• Has unique water retention properties that help plants require less frequent watering.

• Enriched with Miracle-Gro®Plant Food.
Benefits of Use
• Miracle-Gro Sphagnum Peat Moss' combination of moisture and nutrient retention makes it effective for helping grow strong roots by aerating the soil and providing moisture at the root level when required.

• This peat moss product is enriched with Miracle Gro Plant Food to provide your plants with the nutrients required to grow lush and bountiful for up to 3 months.

• Miracle-Gro Sphagnum Peat Moss works as a natural solution to lightening heavy potting mixes and making it easier to work while allowing roots to develop and grow freely.

• This product's natural ability to lighten the potting mix also helps with drainage for your plants to get the aeration they require.
Ingredients
The core ingredients found in Miracle-Gro Sphagnum Peat Moss are known for their abilities to keep the soil moist for a long time while feeding your plants the nutrients they require:
• Sphagnum Moss: Favoured for its ability to keep soil moist to give plants the water they need, sphagnum moss helps retain water moisture in soil effectively. It is also known to not become soggy which is ideal for avoiding overwatering-related diseases like rot root.
• Miracle-Gro Plant Food: This all-purpose plant food will provide your indoor plants with the nutrients they need to grow healthy and lush. Combined with sphagnum moss, a special formula mix of Miracle-Gro Plant Food will have no issue getting to the roots of your plants.
• NPK ratio of 0.05-0.02-0.04.